Introducing...
RAWR The Podcast
Join us as we talk real and raw about everything from premature birth and NICU life, to special needs and infant loss. We don't share your average Mama Stories, and this isn't your average podcast. We break through the bullshit of navigating guilt, grief and trauma, and together we'll RAWR. 
Find us NOW on your favourite pod platforms, with new episodes dropping every Monday!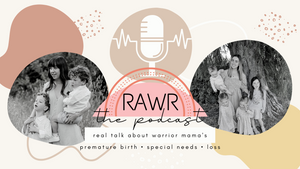 Help us make a difference...
$2 from every order over $30 will be donated to Running for Premature Babies, a registered Australian Charity supporting neonatal units in hospitals around the country.
Find out more...
Join Our Community
Our Miracle Mumma Village is growing rapidly over on social media - please follow the links at the bottom of our page to join our Instagram & Facebook community and celebrate the tiniest of miracles and their families.